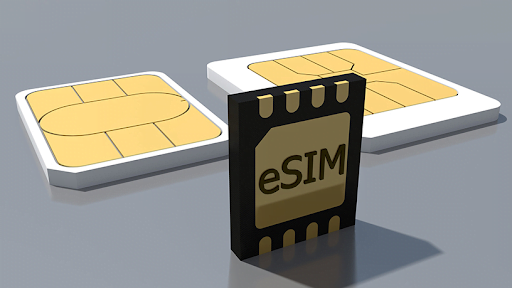 The digital revolution has taken over all industries – business, education, healthcare, tourism, government, and much more! With that, the rise of digital technology has come up in such a way that it benefits every person and makes lives more manageable. One product of this revolution is the eSIM or Embedded SIM.
An eSIM is an embedded SIM card that you can activate online with an active carrier installed without using a physical SIM card.
The eSIM revolution has grown traction with more consumers, network operators, and device manufacturers shifting their focus towards the eSIM. The need for persistent online connectivity has influenced the market for an eSIM. eSIMs are necessary for frequent travelers and students studying abroad.
Emergence of eSIM
One of the first companies to introduce eSIM was Apple, after which its competitors followed suit. The first eSIM or software-based SIM was introduced in 2016. It is embedded into the device's motherboard. Almost every company now makes devices with the integrated SIM card option. The number of eSIM devices has reached around 120 models, with smartphones, smartwatches, and tablets as viable options. The eSIM is on the verge of becoming the standard for all devices, and rightfully so, given its convenience.
The need for eSIM
Capitalizing on technology is what businesses aim to do, and rightly so, given the need to keep up with the times. The birth of an eSIM has brought convenience and simplified switching between carriers instead of carrying and installing a new card. Switching carriers in an eSIM is more straightforward than doing it physically when you travel abroad. You must scan a QR code that reconfigures the carrier on your phone, and you can easily switch between carriers and manage accounts.
As a phone manufacturer, an eSIM can help save space inside the phone and promote the production of thinner phone designs and larger batteries. eSIMs are incredibly safe and easy to personalize. You can choose a PIN code and number the minute you enroll for an eSIM without having to provide any ID.
Benefits of an eSIM
As mobile carrier services upgrade their products and keep up with business solutions with innovations, it forms a beneficial situation for everyone. These upgrades come with several benefits, which are –
Sustainability – The emergence of eSIM has resulted in lower manufacturing of physical SIM cards and reduced production, packaging, warehousing, shipping costs, time, and carbon impact. People also tend to use SIM cards for short trips and vacations, which happen to be use-and-throw SIM cards, which are not very sustainable. The reduction in the use of plastic has an overall positive, sustainable impact.
Easy Transition – When you travel, getting a local SIM requires you to find a store, find the right SIM plan, visit the store, wait in queues, fill out paperwork and install the SIM. With an eSIM, you can skip all these steps and find the right plan within minutes. As a student studying abroad, you can install your eSIM from the comfort of your

amber student accommodation

.
Outstanding Connectivity – While traveling or moving abroad, staying connected to family and friends is essential. Here lies the benefit of an eSIM, given that it provides uninterrupted connectivity worldwide by giving the freedom to switch plans without having to deal with physical connectivity and roaming fees.
Skip the wifi experience – When you travel, you need to connect to public wifi in hotels or cafes, which usually have slow speeds and are generally unsafe and unsuitable for your devices. When you have an eSIM, you need not worry about the wifi hassle and get instant access to the internet on the go!
Use of Multiple Devices – eSIMs allow you to add additional devices you own. Holding and transferring a physical SIM card among the three devices can be challenging when you have a smartphone, tablet, or watch. With an eSIM, you can add all devices to the same cellular plan, and this cellular plan can be used on individual devices with one master plan.
In this world, technologies are constantly evolving and changing toward becoming more hassle-free and digital. The eSIM is a testament to this dynamic industry in a world where everything is going digital. It provides safe and seamless service and helps change the configuration of devices, making them smaller, faster, and more efficient.
Amber and you : AmberStudent is an online student accommodation that helps you secure a home of choice on your study abroad journey. Having served 80 million students (and counting), AmberStudent is your one-stop shop for all your accommodation needs, with great choices like IQ Highbury and IQ Weaver Place. Amber helps with assistance, booking and price match guarantees! Check out their Facebook and Instagram and stay connected!